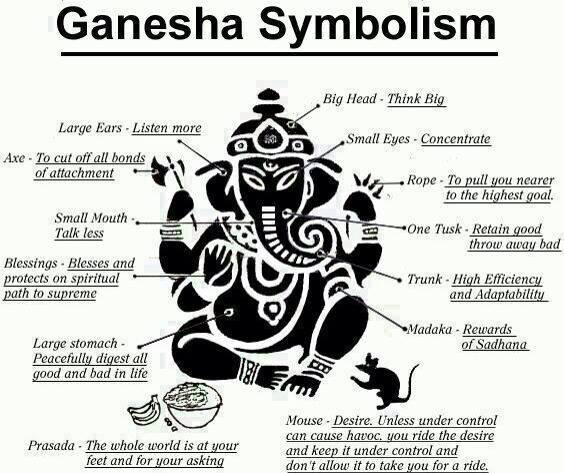 First of all, Wish all happy & prosperous Ganesha chathurthi 2018 and a great year ahead !!!
Lord Ganesha is said to be the God of knowledge, happiness & prosperity. He is said to be the intelligent, humble and healer of obstacles god.
Here there are 11 key traits of Lord Ganesha, which would held us in the Happy & Prosperous investing & trading as follows:
First of all, the big head of Lord Ganesha symbolizes for thinking big – Above all, the secret of thinking big is always a stepping stone for larger vision and goal to build financial path & grow your wealth.
A sharp and small eyes of Lord Ganesha signifies its importance of concentrating on the minute details and smart eye. Thus to identify the trend because as it is said, "jiksi nazar tez uski kismat tez" – a one who has a sharp eyes always have fortune. Therefore, the sharp eyes is very important in identification of early trends in investing and trading.
In financial markets information is always a road map to wealth. A large ears of Lord Ganesha symbolizes a good listener and grasp of important information.
A smart mind Lord Ganesha possess as he is said god of intellectual, who executes his tasks with intelligence. An intelligent person who acts in a smart and disciplined way can create wealth in trading and investment arena by the power of knowledge.
Lord Ganesha one Tusk, which symbolizes retention of good and throw away bad things. Therefore, In context of trading and investing one needs retain good trade/investment and get away with bad ones early.
Lord Ganesha's trunk symbolizes higher efficiency and adaptability. Thus, traders and investors has to focus on their efficiency and should be adaptable to change on changing market conditions.
The axe of Lord Ganesha signifies the detachment from all bonds of attachments. A lesson for traders/investors from this is to keep check on emotions in decision making.
A large stomach of Lord Ganesha symbolizes the digestion of all god and bad aspects of life in a equal way. Hence, a lesson for traders and investors from this is to keep emotions in check in good and bad trades and as every decision cant be right.
A mouse near the foot of Lord Ganesha symbolizes a desire – Therefore fear and greed unless kept in control can create a havoc.
A modaka – sweet with Lord Ganesha is a reward of sadhna – Thus reward of hard work one gets for their efforts.
A prasada is a blessings from Lord Ganesha for your dedication, hard work, determination, patience and goodness where whole world is at your feet and for asking certainly.
One again a Happy Ganesha Chathurthi 2018 and a happy prosperous year ahead !!! Let Lord Ganesha bless all of us with good humor, patience, happiness, prosperity and success …
To Learn and earn  STAR trading opportunities in Indian Equities, Commodities and Currencies – NIFTY, BANK NIFTY, NIFTY IT & STOCKS join our Traderz Hut Community
Learn basic to advanced [P] Square Elliot Wave Strategies Stock market training from an expert Trader & Mentor Raju Angadi Vishwanath, MS, CFTe .
Thus, become your own money & risk manger by learning successful psychological traits in trading
For more details on forthcoming workshops & live trading workshops an exclusive stock market trading training course practical learn and earn join our exclusive Trading Room – Traderz Hut contact us on traderzhut@gmail.com or call us on +91 78291 55900