In this article, let's sneak into magic of Elliot wave counts and how pattern is forming in Ashok Leyland.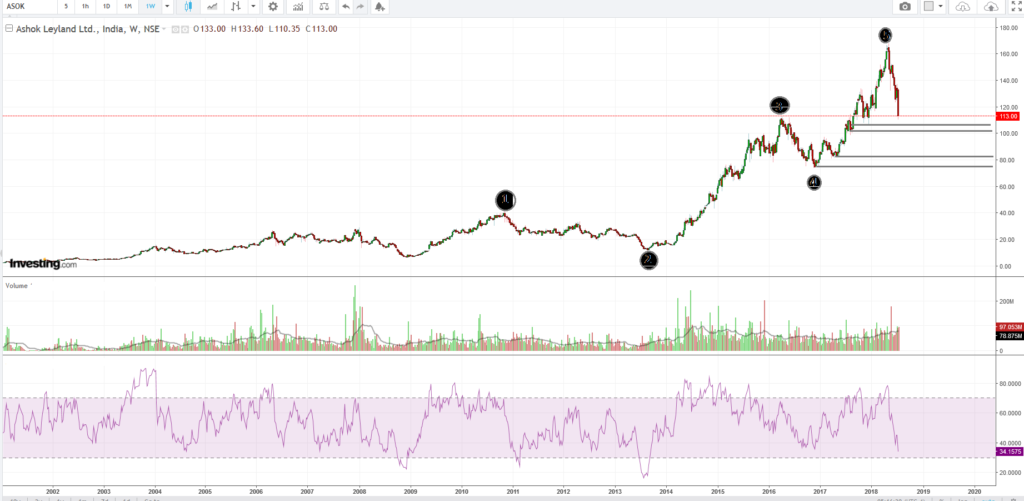 Ashok Leyland has been falling after making a top near 168 now trading at 110 zone.
The stock after completing an impulse from 16-168 now in corrective decline.
The stock has shown a selling opportunity from 132 zone.
Where is stock headed in near to medium term and long term ???
Is it the right time to Sell stock ???
Is there still an opportunity to make money by short selling ???
The key Confluence Zone for the stock :
R – 1_ _ / 134
S – _ _ _  / _ _ _
The internal counts and precise targets are not shown on the charts above. There are few ore stocks which are exhibiting similar larger degree Elliot wave pattern. To know more such kind of patterns to manage your trades and investments join our Live Trading Room – Online Trading Workshop to interact with elite traders and mentor.
To Learn and earn such STAR trading opportunities in Indian Equities, Commodities and Currencies – NIFTY, BANK NIFTY, NIFTY IT & STOCKS join our Traderz Hut Community. There is a great opportunity in metal stocks and some consumer stocks coming up.
Learn basic to advanced [P] Square Elliot Wave Strategies Stock market training from an expert Trader & Mentor Raju Angadi Vishwanath, MS, CMT
For more details on forthcoming workshops & live trading workshops an exclusive stock market trading course practical Join our exclusive Trading Room – Traderz Hut contact us on traderzhut@gmail.com or call us on +91 78291 55900