The million dollar question is, can Axis Bank regain its charm after Q1 results 2018?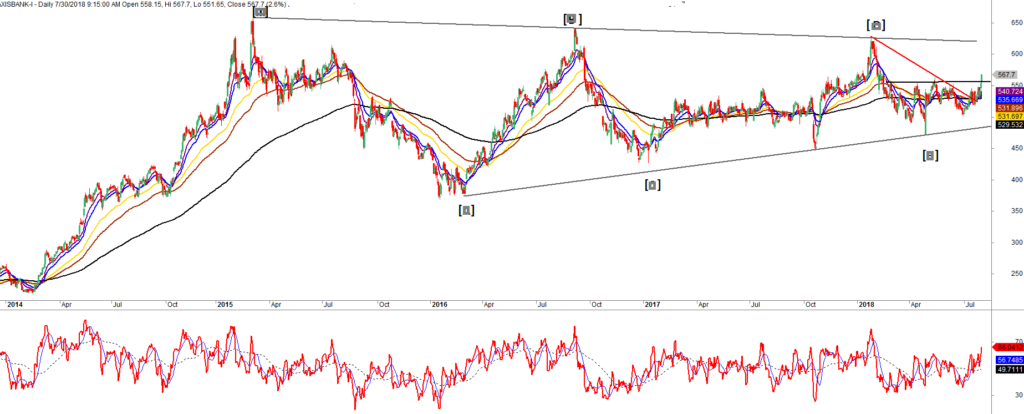 The banking major Axis Bank has been under performer from last 3 years. After making highs around 650 stock has been in corrective phase.  Thus, after completion of impulse stock more than tripled from 200 in just 13 months. The correction since then has been in overlapping squeezing pattern.
The stock has broken out of a Bullish Head & Shoulders Pattern and trading above key moving averages. Therefore, also NIFTY Bank trading at all time highs. can the stock gain momentum after Q1 results ? Thus, trading or entering at current levels for short traders is difficult due wild volatile moves during results in many stocks as seen in recent past. Ultimately short term Day or Swing Trading is all about timing the entry and managing the risk only path towards success. The stock is not in the make or break scernario until _ _ _ levels are protected stock is in bullish mode and head towards _ _ _ and _ _ _ levels.
What to expect from the stock in short, medium and long term ?
Does the noise of NPA and Shika Sharma effect the stock and drag it much lower south or has the news discounted?
What does Elliot Wave count suggest ?
To know the stock for forthcoming invest & trading opportunity in Equities, Commodities and Currencies feel free to consult us.
Therefore trading/investing is believed to be a game of chess not a random gamble. As quoted by the legendary investor & trader "Discount the obvious and be the unexpected" – Gorge Soros. Thus, it all depends on your think plus ability.
Join Traderz Hut community to Learn STAR trading opportunities in Indian Equities, Commodities and Currencies.
Therefore, learn basic to advanced [P] Square Elliot Wave Strategies Stock market training from an expert Trader & Mentor Raju Angadi Vishwanath, MS, CFTe.
Become your own money & risk manger by learning successful psychological traits in trading
Thus, for more details on forthcoming workshops and live trading room get in touch with us.
Join our exclusive Online live Trading Room – LEAP contact us on traderzhut@gmail.com or call us on +91 78291 55900