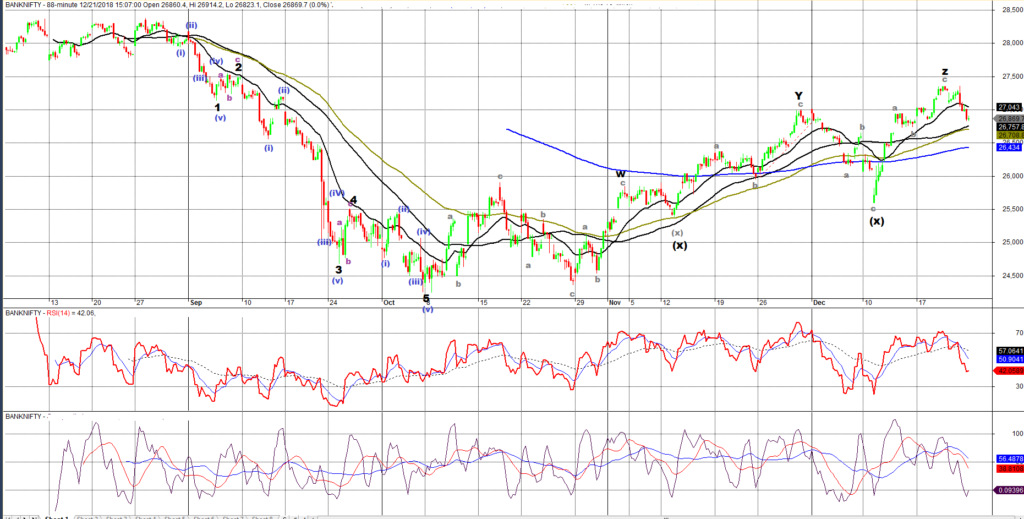 Bank NIFTY outperformed NIFTY after October month crash retraced more than NIFTY. But still the advance was corrective. Thus, it is always important to trade the corrective advances or declines in an objective way and as it comes.
The careful and objective approach would help one identify the reversal points and act upon it.
Bank NIFTY exhibited a corrective advance from 24200 to 27400 odd levels in the form of W – (x) – Y – (x) – Z retraced impulse decline by 78.6%.
Bankex last week formed shooting STAR candlestick pattern on weekly charts. Thus, hinting an exhaustion of uptrend near the key resistance zone.
Also structurally private sector banks completed their corrective advance as per Elliot Wave counts hinted the crash coming. And Bank NIFTY already we are down 1000 points from highs.
Thus, Bank NIFTY crash coming and is underway as its following perfect Elliot Wave structure on charts.
The low risk high probable trade setup was in place for traders once bank nifty broke below 27100. Its always key to mange the risk in an appropriate way.
Therefore, the application of basic and advanced technical analysis gives the low risk high conviction probable reversal points.
What is in store for the Bank NIFTY in coming months?
Is Bank NIFTY crash coming?
Is this just the tip of iceberg what we have seen?
To know the best Bank stock to short & forthcoming trading opportunity in Equities, trade setup Commodities and Currencies feel free to consult us.
Join our Day Trader Workshop on 19th & 20th January 2019 in Bangalore
An exclusive stock market trading course learn and earn.
We believe investing is a game of chess not a random gamble, as it is quoted by the legendary investor & trader "Discount the obvious and be the unexpected" – Gorge Soros.
Hence, to learn and earn STAR trading opportunities in Indian Equities, Commodities and Currencies – NIFTY, BANK NIFTY, NIFTY IT & STOCKS join our Traderz Hut Community.
Learn basic to advanced [P] Square Elliot Wave Strategies from an industry expert. A trader, coach & mentor Raju Angadi Vishwanath, MS, CFTe.
For more details on forthcoming workshops & Day Trading Workshops, Pro Trader Workshops, and live trading workshops – LEAP Learn Earn and Prosper contact us on traderzhut@gmail.com or call us on +91 78291 55900.