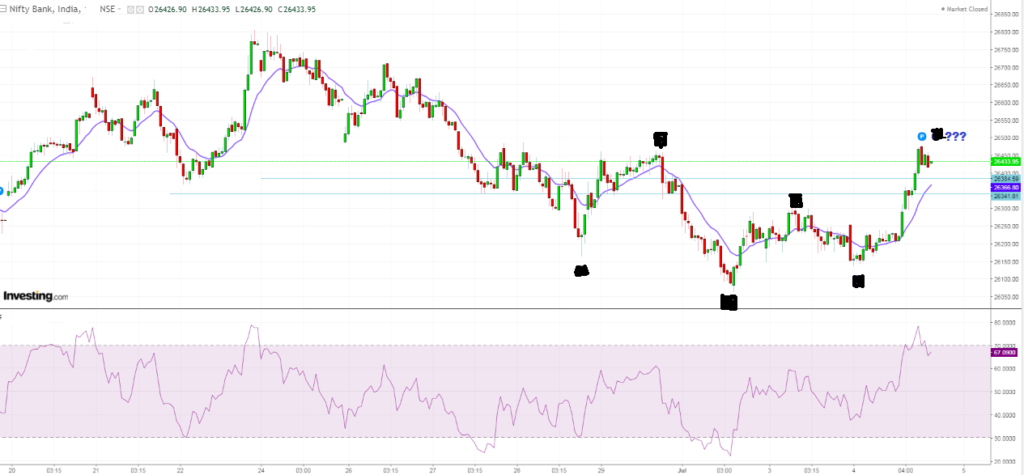 The weekly expiry outlook for Bank NIFTY is discussed in this article.
Technical Analysis Outlook:
The Weekly trading range for Bank NIFTY is from 26061 to 26487. After 4 trading sessions of negative bias or under performance Bank NIFTY yesterday gave a strong reversal. The lows were protected to bounce back almost 330 points from lows. A reversal bullish bar was seen on Daily charts.
The key confluence zone for NIFTY Bank is around 26434 / 26522 / 26644 above. A trader could see strong reversal upwards negating high probable Elliot wave counts.
The downside support for Bank NIFTY is around 26345 / 26240
The [P] Square Elliot Wave Counts alternative 26475-26500 is key breakout points for bulls. The crucial points 26380-26340 breakdown below is key point for bears to watch out for.
Bank NIFTY weekly Expiry outlook with OI data:
OI Data:
The highest open interest in Puts (PE) is built in 26200 followed by 26300 and yesterday also also there was addition of positions in the respective put strikes. while the highest Calls (CE) is built in 26500 and 26600. Although some unwinding of written CEs at 26500 strike was seen.
Outstanding OI with highest Open Interest
26300 July 5 PE – 9,32,520
26200 July 5 PE – 12,34,520
26500 July 5 CE – 9,38,840
26600 July 5 CE – 8,25,800
As per the OI data Bank NIFTY could be in the range of 26200 – 26600 atleast for the first half of the session.
Thus, where is Bank NIFTY headed in near, medium term and long term ???
Therefore, Is it the right time to Buy or Sell Bank NIFTY ???
How to trade Bank NIFTY options on expiry day?
The Elliot wave counts for short and medium term with other objective trading strategies are not shown on the charts above. The trade setup scenarios which are shown in our live trading workshop for our members …. ….
Thus, learn such STAR trading opportunities and join our Traderz Hut Community.
Learn How to trade NIFTY and Bank NIFTY successfully.
Therefore, learn and earn basic to advanced [P] Square Elliot Waves. Learn advanced trading cum investment Strategies from an expert Trader & Mentor Raju Angadi Vishwanath, MS, CFTe.
Thus, for more details on forthcoming workshops & live trading workshops. Join our exclusive Trading Room – Traderz Hut contact us on traderzhut@gmail.com or call us on +91 7829155900