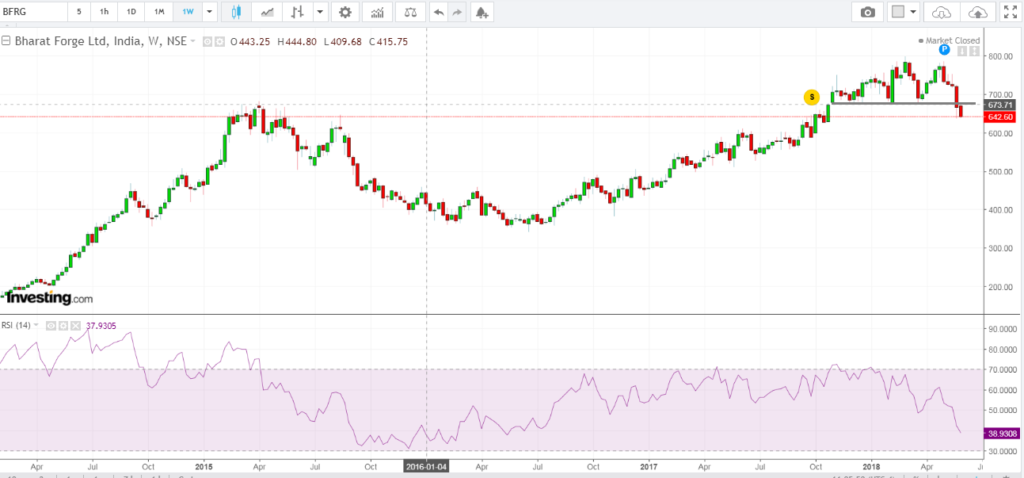 Bharat Forge has seen a massive erosion of wealth for investors in last 5 weeks from 790 odd levels stock has fallen to 640. The stock has broken below Bearish H & S pattern and has been following classical Elliot wave counts.
Could one would have exited the stock before the crack? Yes. The catastrophic fall could have been foreseen with the help of advanced [P] Square Elliot Waves and other basic objective technical analysis methods atleast investors could have exited the stock below 720 levels.
Thus, objective application & execution of technical analysis would not only can help protecting wealth but also one can make big money from short selling ….
Where is stock headed in near to medium term and long term ???
Is it the right time to buy stock after almost 20% fall ???
Is there still an opportunity to make money by short selling ???
The Elliot wave counts for short and medium term with objective trading strategies are not shown on the charts above ….
Thus, join Traderz Hut Community learn such STAR trading opportunities.
Learn basic to advanced [P] Square Elliot Wave Strategies from an expert Trader & Mentor Raju Angadi Vishwanath, MS, CFTe.
Therefore, for more details on forthcoming workshops & live trading room get in touch with us.
Join our exclusive live online Trading Room – Traderz Hut contact us on traderzhut@gmail.com or call us on +91 78291 55900