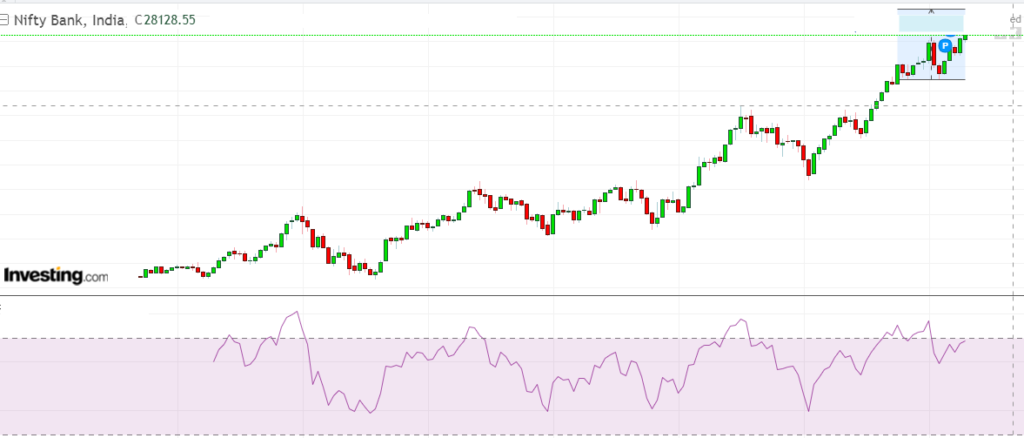 Can Bank NIFTY hit bulls eye following perfect Elliot wave pattern ???
The Elliot Wave counts in Asia's most traded index is in strong impulse move upwards. The probable wave counts indicate most likely in Wave III of 3 of v, which could gain 10-15% more with a targets  _ _ _ _ _. Yes, you have heard it right. The traders are advised to tighten seat belts as still more is coming on upside. The news of all NPA is getting fizzled out or discounted. The Bank NIFTY is marching ahead as per the time series forecast. The charts hint probable top by end of October 2018.  But before that, still more fire works are left. Hence enjoy the bumpy ride by tightening your seat belts.
Are there still multi-baggers in a mature ongoing trend in BANK NIFTY?
Yes. Now, time to select multi-bagger/s in Bankex sounds surprising. But still that's true ….
Therefore, to know the multi-bagger stock for forthcoming invest & trading opportunity in Bank NIFTY, Equities, Commodities and Currencies feel free to consult us.
Thus, investing and trading is a game of chess not a random gamble. The quote from the legendary investor & trader narrates that, "Discount the obvious and be the unexpected" – Gorge Soros. Therefore traders success depends on your think plus ability. Therefore traders should always be wise to have Plan A and Plan B in place.
The short and medium term Elliot Wave counts are intentionally not shown here. The detailed counts are discussed in the insider community for members.
Thus, learn STAR trading opportunities in Indian Equities, Commodities and Currencies – NIFTY, BANK NIFTY, NIFTY IT & STOCKS join Traderz Hut Community.
Join and learn basic to advanced [P] Square Elliot Wave Strategies Stock market training from an expert Trader & Mentor Raju Angadi Vishwanath, MS, CFTe.
Become your own money & risk manger by learning successful psychological traits in trading.
Therefore, for more details on forthcoming workshops – Day Trading Workshops, and live trading workshops contact us.
Join our exclusive Live Online Trading Room – LEAP contact us on traderzhut@gmail.com or call us on +91 78291 55900