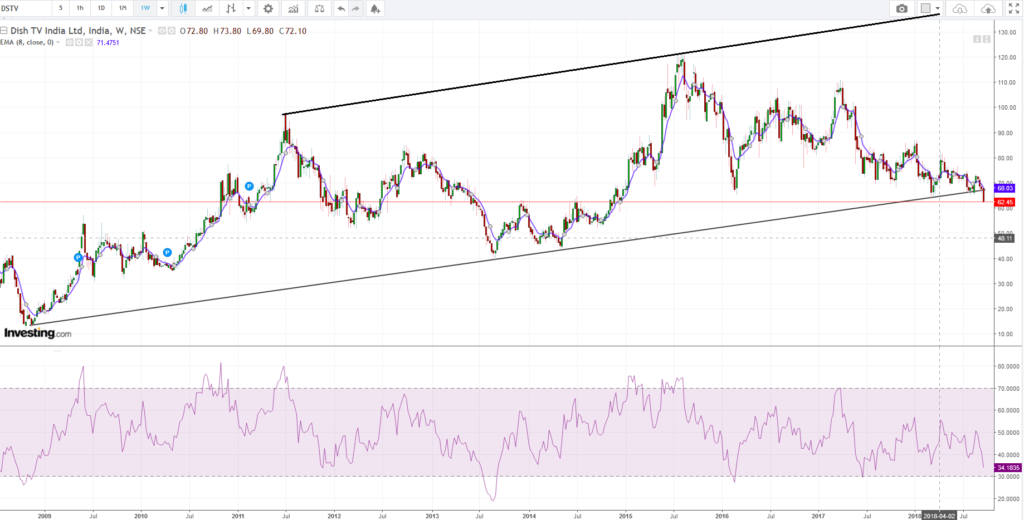 The identification of STAR trading setup and sticking with it. Dish TV breaks corrective advance channel and multi weeks low below 66-67 and it trades below short term WEMA confirming the down trend. But with the application of advanced Elliot Waves counts confirmed the trend in the stock with precision and setup the trade by appropriate risk management.
What to expect from the stock in short, medium and long term after a stellar rally ?
What does Elliot Wave count suggest ?
To know the stock for forthcoming invest & trading opportunity in Equities, Commodities and Currencies feel free to consult us.
We believe investing is a game of chess not a random gamble, as it is quoted by the legendary investor & trader "Discount the obvious and be the unexpected" – Gorge Soros. Thus, it all depends on your think + ability
The short and medium term Elliot Wave counts are intentionally not shown here which are discussed on our member area. To Learn and earn  STAR trading opportunities in Indian Equities, Commodities and Currencies – NIFTY, BANK NIFTY, NIFTY IT & STOCKS join our Traderz Hut Community
Learn basic to advanced [P] Square Elliot Wave Strategies Stock market training from an expert Trader & Mentor Raju Angadi Vishwanath, MS, CFTe & become your own money & risk manger by learning successful psychological traits in trading
For more details on forthcoming workshops & Day Trading Workshops, Pro Trader Workshops, and live trading workshops an exclusive stock market trading training course practical learn and earn join our exclusive Trading Room – Traderz Hut contact us on traderzhut@gmail.com or call us on +91 78291 55900