In last one month, NFITY has moved hardly moved in any direction being in the range from 10400 to 10900 now almost trading near the median 10740 levels. But sector rotation has been the key to make money or lose money. In dynamic markets one needs to be in right sector to make money or protect your capital.
There would have been big draw down if one would have been in midcaps as many midcaps as NIFTY MIDCAP 100 index almost went down 2000 points from high to lows and most of the midcap stocks were down 30 to 50% in the mean time in the month of May 2018. The broader markets completely underperformed the large caps but still selective large caps outperformed.
Even though large caps outperformed some times bottom up approach is important in choosing the right sector. Thus, it is very important in dynamic markets when markets are sideways or in corrective period. Some sector/s would perform better or outperform. Therefore, it is important and also key parameter to be in right sector along with stocks.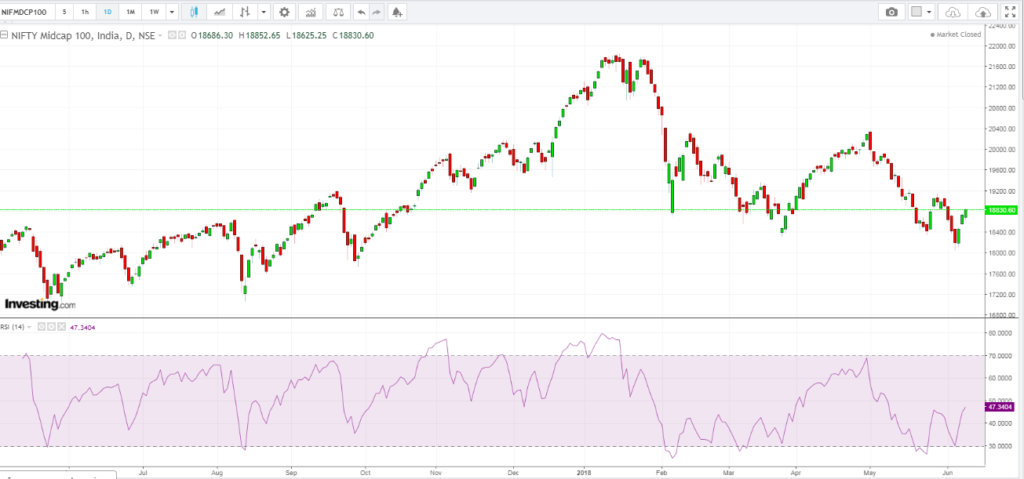 There has always been an argument that catching bottoms and tops is next to impossible. But with the application of [P] Square Elliot Waves and basics building blocks of technical analysis it is possible to fairly identify the reversal points in sector/s & stocks.

In last week, there is strong reversal seen in NIFTY PHARMA Index which is almost up 5% with strong volumes.
can the reversal be identified in NIFTY Pharma?
Yes.
With the application of [P] Square Elliot Waves its gave a probable hint of reversal. Thus, for traders it is also important to understand the dynamics of supply and demand to identify key reversal points. The large cap PHARMA stocks such as SUN Pharma, Dr. Reddy, Lupin etc., gave a return of 10-15% in in last couple of weeks on upside. Though at the same time last month Mid caps completely under performed.
There is a still a big STAR trading opportunity in short , medium and long term coming up in the blue chip Pharma stocks. But timing is important in trading setup with appropriate risk and money management skills.
Thus, join Traderz Hut Community learn and earn with such STAR trading opportunities.
Learn basic to advanced [P] Square Elliot Wave Strategies from a Trader & Mentor Raju Angadi Vishwanath, MS, CMT
Therefore, for more details on forthcoming workshops & live trading room get in touch with us.
Join our exclusive live Trading Room – Traderz Hut contact us on traderzhut@gmail.com or call us on +91 78291 55900