Gold staged a stellar rally of 8,000 points from 31500 to 39500 this year from lows. After the rally it has been consolidating in the range of 36800 – 39500 from past 4 months after making a top. The charts hint we are in a rectangular pattern as shown in the chart below.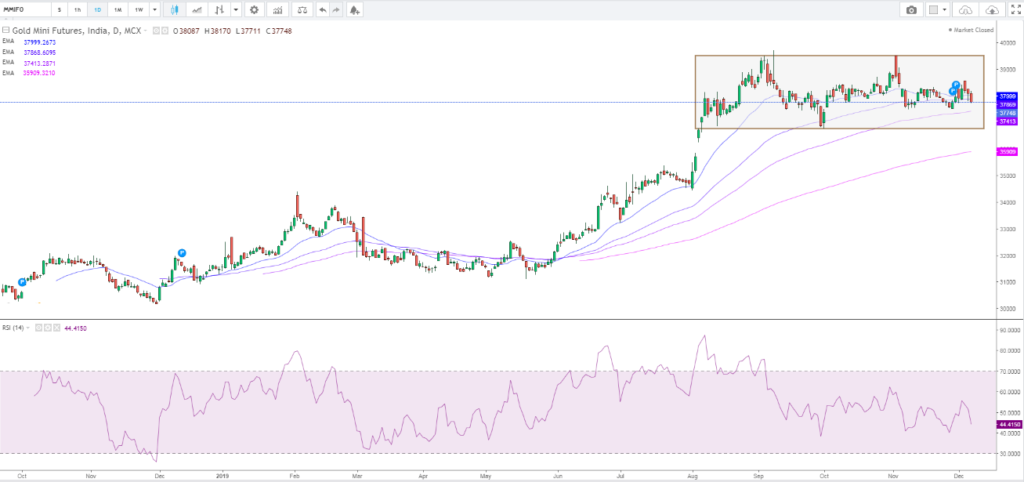 The smaller band to watch out for Gold is from 38450 – 38550 (upper) to 37560 – 37450 (lower). Thus, traders are advised to trade within the define range and current strategy is to sell on rises as of now. The range shift on either side trigger a trade setup for 600 – 800 points move from smaller band towards channel threshold.
The short-term trading clusters on the downside are 37580 /37455 /37263 /36948 / 36771 and on the upside are 38003 / 38190/ 38443/ 38561.
Do you like to become a Master Day Trader?
Join our Master Day Trader – Workshop and start your journey towards financial freedom.
ACT now!!! Anybody Can Trade
Join our exclusive Trading Room – ACT now Slack Community. Learn , Earn and Prosper from TRADERZ HUT with Raju Angadi Vishwanath, MS, CFTe and become a Master Trader.
For more details, contact us on traderzhut@gmail.com or call us on +91 78291 55900