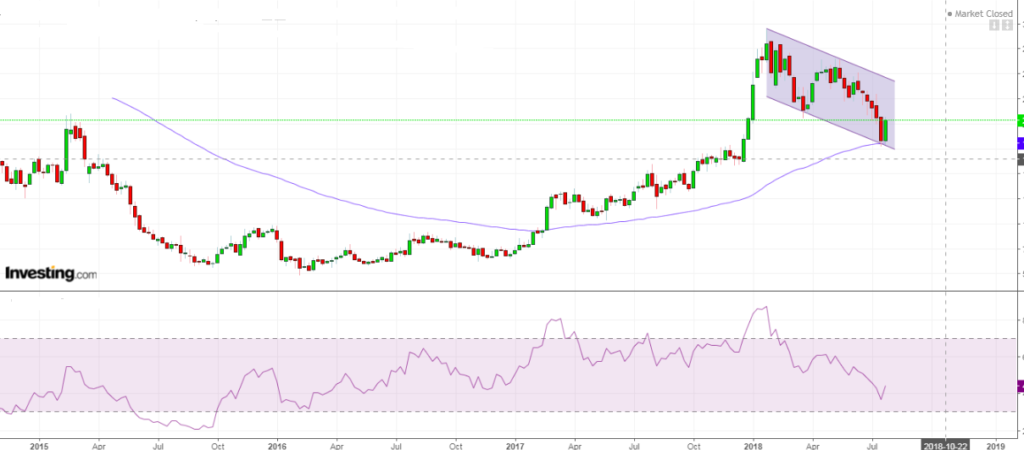 This metal stock has risen from 60 in the form of impulse. Since then stock has started correcting from the highs of _ _ _ retraced in the form of corrective wave. Near the key Moving Average on weekly charts stock has taken a support and has shown a bar reversal. It has been perfectly following channeling technique.
What to expect from the stock in short, medium and long term ?
Does trade war effect the stock and drag it much lower south ?
What does Elliot Wave count suggest ?
As long as key support of channel and MA is protected, one can trade the long side in the stock but timing with appropriate risk and money management is very important factor in trading the stock particularly in this metal stock as it highly volatile counter.
However as long as lows are protected it can revisit or surpass recent highs amid trade war or any news. The stock is in the process of bottoming out for the next phase of expansion. Thus, objectivity and discipline is key to successful trading as well as investing.
Although stock has risen multi-fold still has got a potential of becoming a multi bagger in long run or at least could give 50% returns in medium term.
As it is said that, "Buy Right & Sit Tight " ….
To know the stock for forthcoming invest & trading opportunity in Equities, Commodities and Currencies feel free to consult us.
Therefore investing is a game of chess not a random gamble. as quoted by the legendary investor & trader "Discount the obvious and be the unexpected" – Gorge Soros. Thus, it all depends on your think plus ability.
join Traderz Hut Community to learn STAR trading opportunities in Indian Equities, Commodities and Currencies.
Thus, learn basic to advanced [P] Square Elliot Wave Strategies Stock market training from an expert Trader & Mentor Raju Angadi Vishwanath, MS, CFTe.
Become your own money & risk manger by learning successful psychological traits in trading
Therefore, for more details on forthcoming workshops & live Online trading Room Access get in touch with us.
An exclusive Live Trading Room – LEAP for traders contact us on traderzhut@gmail.com or call us on +91 78291 55900