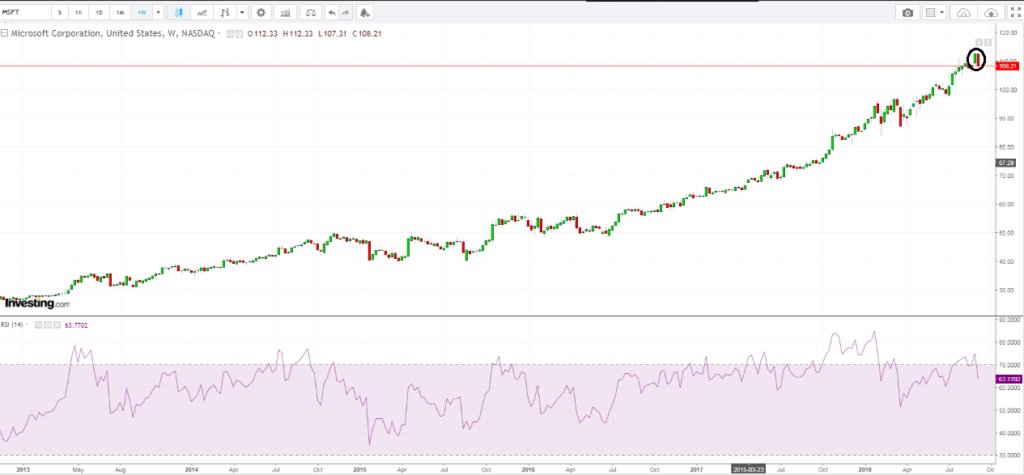 Microsoft Corporation hits the bulls eye. As stock has been in a stellar run from past 9 years. What is next for the stock is a million dollar question? The rally for Microsoft from $ 15 hit the bulls high $ 112 zones is approximately 8 times. A resistance can be seen around these $ 112 – 114 levels for atleast short to near term for the stock.
Is there still more upside for the stock ?
Has stock hit its confluence zone ?
Is this the right time to invest or trade in the stock ?
Technical Analysis View:
A bearish engulfing candlestick pattern near the top is the first hint of reversal. The question here is the stock entering the medium term reversal?
The answer lies in the chart as shown above. A bearish reversal is the hint of a first signs of weakness. But, for additional confirmation advanced techniques of technical analysis needs to be used.
Thus, the power of simple pattern with the application of [P] square Elliot Waves will provide the objectivity. Therefore, the combination of multiple tools and appropriate risk and money management strategies is key to successful trading.
There is a big STAR trading opportunity in short, medium and long term coming up for the stock
In this article, some of the counts and techniques are intentionally excluded in charts. The insider community will get complete access complete research report.
Therefore, to Learn and earn with such STAR trading opportunities NIFTY, BANK NIFTY, CNX IT and Global Markets. Join our Traderz Hut community.
Also learn revamped and advanced [P] Square Elliot Wave Strategies to identify such kind of opportunities yourself from a Trader & Mentor Raju Angadi Vishwanath, MS, CMT
Thus, for more details on forthcoming workshops & live trading workshops to Join our exclusive Trading Room – Traderz Hut contact us on traderzhut@gmail.com or call us on +91 78291 55900