Are we nearing the tip of the iceberg in NIFTY? NIFTY is most likely in the verge of forming a topping process. As the charts hint rallies are reducing and fall is increasing. Thus, Let's deduce into high probable objective Elliot Wave counts get a clear picture what charts tell.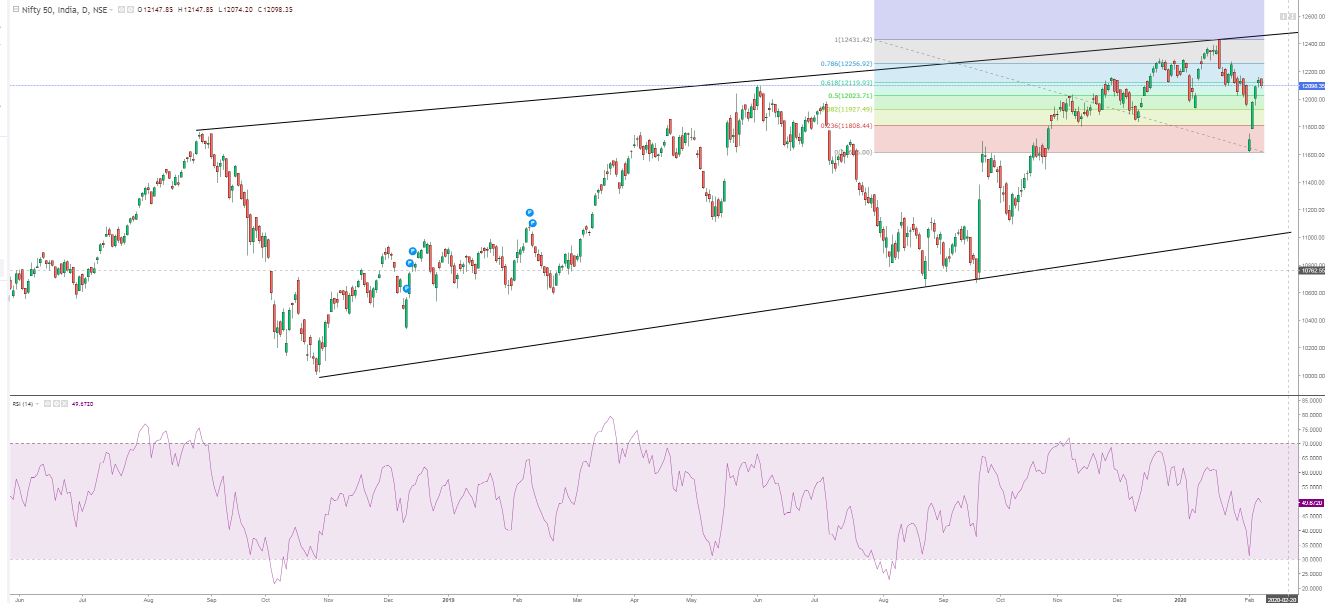 NIFTY staged a dramatic pull back of 500 points after a fall of 800 points from the top from 12400 to 11600 zones before Union Budget 2020 as shown in Daily chart above. Now NIFTY is trading in between the range 11600 – 12450 zones. But the volatility Index India VIX came down more than 25% after the event. The Index witnessed a strong reversal after 3 straight weeks of reversal forming a bullish belthold candlestick pattern on weekly charts. NIFTY witnessed 0.618% retracement of the fall in a ferocious manner hinting a strong reversal.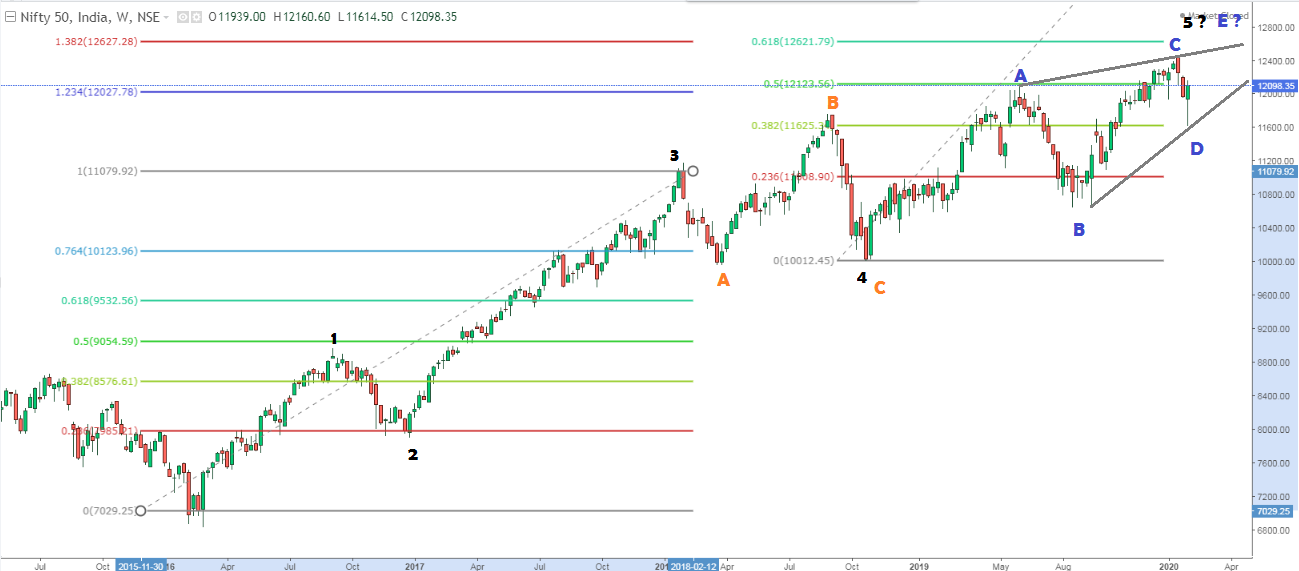 The Delhi state elections around the corner expected the upper hand for AAP can expect some more volatility. The lesser degree internal Elliot Wave counts hint an impulse advance in the index. Now entered in the consolidation or correction taking a breather. But, the larger degree Elliot Wave counts are still in corrective or hinting a probable last leg of rise in maximum towards 12500 – 12630 levels.
Thus, the million dollar question is, are we nearing the tip of the iceberg in NIFTY? Yes, most likely completion of an ending diagonal of Wave III of [3] of 3 or 5 is in process. Though the reversal has to be confirmed with price action is required to establish the trade setup on the short side. Therefore, keep your fingers crossed and watch out for 11830-11890 levels.
Alternate Case Scenario 2:
In alternate case scenario, also Elliot Wave counts as shown in the chart above hint to be in irregular flat 3-3-5 correction. Thus, which can culminate and trigger a dramatic correction towards 11200 to 10600 levels.
As both the counts pointing towards nearing the tip of the iceberg in NIFTY. Thus, it's advisable for traders to be cautious and objective. As euphoria has set in some quality largcap stocks with abnormal valuation setting in. Almost largely we are done with results season. The global markets trend along with Delhi state elections to determine the future trend.
Overall the trend is assumed be bullish and buy on dips until 11800 is held on. The key trading cluster to watch out on the downside are 12032/11960/11890 and upside clusters are 11258/12310/12450.
Now learn more secrets of Intraday & swing Trading strategies with us and earn consistent money from an industry expert Trader, Trainer & Transformer Raju Angadi Vishwanth, MS, CFTe.
JOIN OUR 5-STEPS TO BE A SUCCESSFUL MASTER DAY TRADER WORKSHOP
JOIN OUR LIVE TRADING ROOM LEAP – LEARN EARN AND PROSPER THIS BUDGET TELEGRAM CHANNEL TRADERZ HUT AND GET FREE INSIGHTS FOR 1-MONTH ABSOLUTELY FREE.
For any queries or more details contact us traderzhut@gmail.com or +91 78291 55900