NIFTY cracks and bears are back in Bang!!! Even after BJP winning with thumping majority, The million dollar question is why markets are unable to hold higher levels? But charts hinted the waning momentum and correction was coming in last week only.
The NIFTY was unable to sustain above 12000 levels. The strong distribution on charts was clearly visible from past 13 sessions. Hence on completion of the distribution we are witnessing a powerful sell off.
Thus irrespective of news and noise, if traders can focus on technical analysis even simplest of the patterns hint where are markets headed.
Technical View:
NIFTY formed a bearish Head and Shoulders pattern on Hourly chart. It followed up with a clear breakdown of the pattern confirming the trend on Friday at 11835.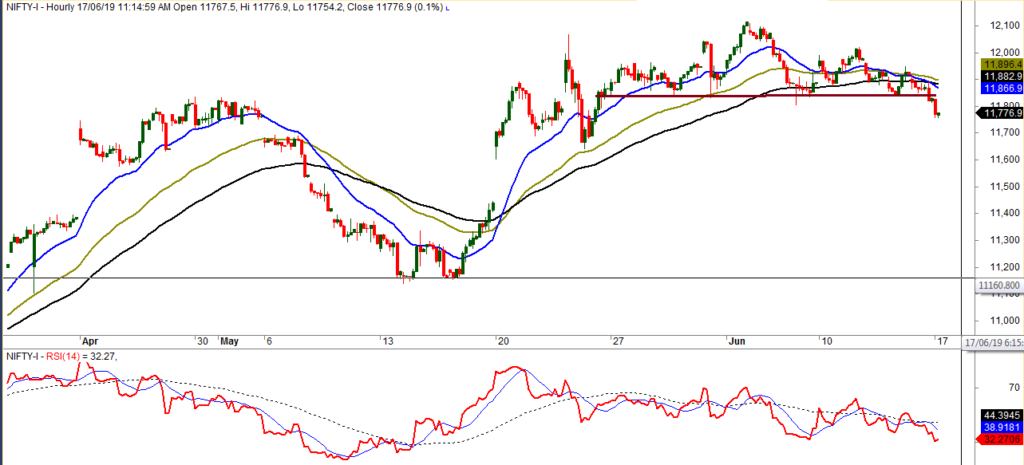 But some advanced Price action strategies gave a clear signal well before around 11990 levels, which are not shown up here.
This time there is a broad based sell off even in strongest Index heavyweight stocks like Reliance, LT etc., Also the FMCG sector charts are hinting a clear distribution pattern along with many other sectors and stocks.
Therefore, it is always important know both basic and advanced strategies to build high conviction trade setups. There are very good high probable low risk trade setups in stocks as well as indices.
Learn basic and advanced Day Trading strategies in Master Day Trader workshop.
Therefore, there is a big STAR trading opportunities coming up in the Equities. But, the key here is to be objective and an appropriate risk and money management to be successful.
To unlock STAR trading opportunities join our Traderz Hut community. Learn, Earn & Prosper advanced [P] Square Elliot Wave Strategies, Multi-bagger Option Strategies and Day & Swing Trading Strategies with Raju Angadi Vishwanath, MS, CFTe.
Join our exclusive Trading Room – ACT now Slack community to Learn , Earn and Prosper from TRADERZ HUT. For more details, contact us on traderzhut@gmail.com or call us on +91 78291 55900