A sneak into NIFTY Elliot Wave Counts with Union Budget 2020 coming up. A thrilling volatile week ahead for Indian Equities. Therefore to bring in objectivity let's sneak into larger degree Elliot Wave Counts.
Case 1: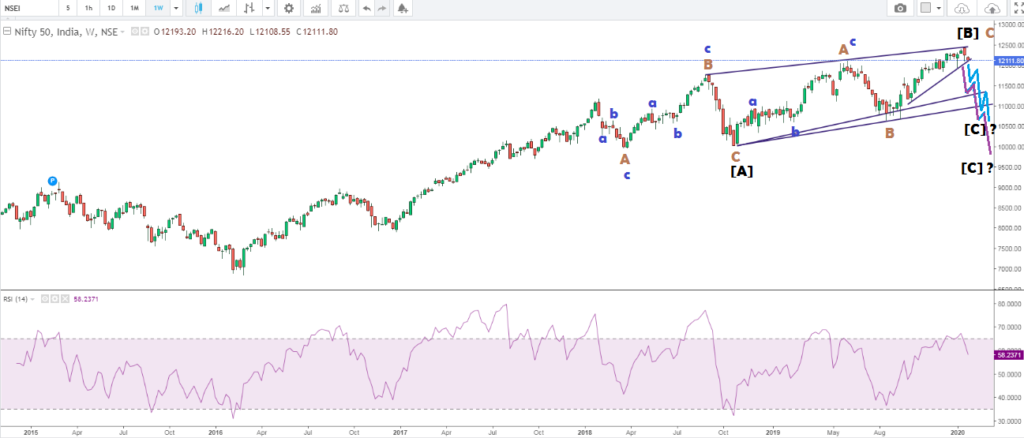 NIFTY Elliot Wave counts hint a probable irregular flat of larger degree as shown in the chart 1. Thus, near the top of trendline index is witnessing a stiff resistance and selling pressure.
In this case scenario, the sell off in NIFTY could be in 5-Wave of internal degree. This could lead NIFTY eventually towards 11200 and 10600 or even lower based on the pattern formation.
Case 2: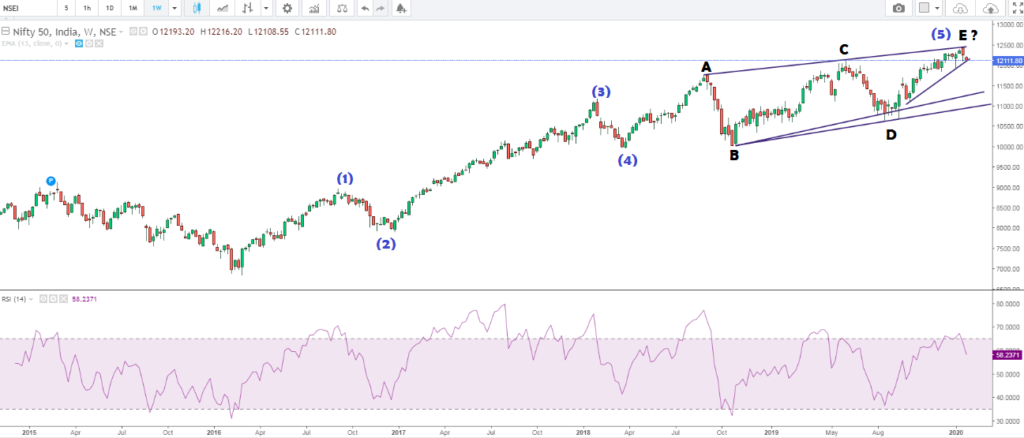 Even in the case 2 scenario, NIFTY Elliot Wave counts hint a brink of the termination of an Ending Diagonal pattern as shown in chart 2. This could be the completion of Wave III of (3) or Wave III of larger degree. Therefore, the trade setup here also seems to be bearish wherein we are heading towards 10600 or lower.
So be cautious do not get carried away as some large caps are showing signs of distribution. The confirmation traders can short below 11800 or 12000 zones. While the aggressive traders can short on any rises with 12400 to 450 as stop loss.
The alternate counts will only come into picture only, if 12450 in NIFTY is decisively crossed. The objectivity is key to trading success. But, the objectivity comes in When you are planned with Plan A and Plan B. Thus based on that, trading can be approached prudently in establishing trade setups.
Now learn more secrets of Intraday & swing Trading strategies with us and earn consistent money from an industry expert Trader, Trainer & Transformer Raju Angadi Vishwanth, MS, CFTe.
JOIN OUR 5-STEPS TO BE A SUCCESSFUL MASTER DAY TRADER WORKSHOP
JOIN OUR LIVE TRADING ROOM LEAP – LEARN EARN AND PROSPER this budget telegram channel Traderz Hut and get free insights for 1-month absolutely free.
For any queries or more details contact us traderzhut@gmail.com or +91 78291 55900