In this article, let's sneak into the NIFTY fractal nature and Elliot Wave counts.
The Indian markets have outperformed most emerging markets from start of 2018 have made fresh highs. But broader markets MIDCAPS and SMALL CAP stocks have under performed the indices clearly. The sole rally is from LARGE CAPS as few have been out performing while few of them under performing. NIFTY after test 11200 corrected to 9950 from there. From the lows NIFTY is witnessing v-shaped rally now trading near 11360-11400 & some consolidation is happening. Thus, charts hint the further rally to get more narrower as days goes by. Thus, the mantra here is to selective. NIFTY is perfectly exhibiting fractal nature in short term now consolidating after touching resistance as showing is charts below.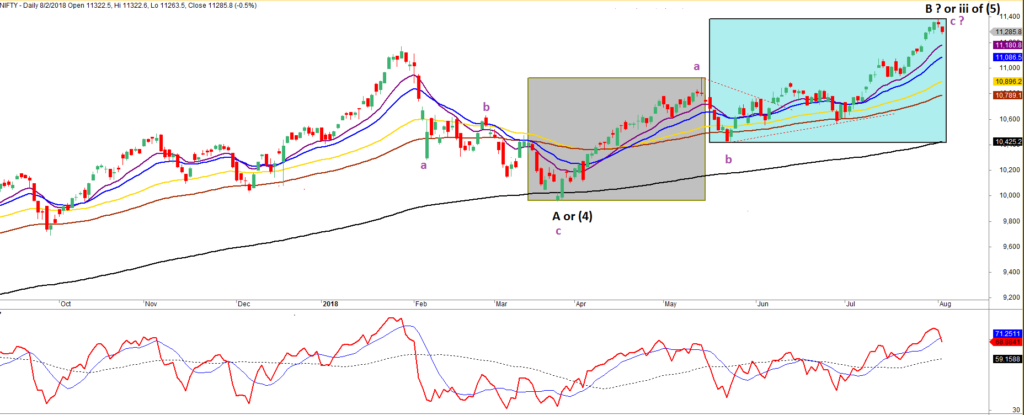 Technical Analysis View: Daily Chart
If the probable counts of NIFTY is in irregular flat, the counts could be in one lesser degree impulse decline of 3-3-5. Thus, NIFTY could be in range 10300-11400 range for the year. The counts are valid until 11400 is not crossed decisively. If the levels crossed we could test 12100 – 12650 on throw over in the form of Wave (5).
Technical Analysis Outlook: Weekly Chart
NIFTY is perfectly following channel since the start of Wave III of of 3 as shown in the Charts below. What is in store next for medium term and long term ? As for as long term is concerned we are Bullish mode still with cycle degree Wave III from 2008 lows 2500 levels. The medium term counts suggest we are in Wave III of 4 or likely might have started wave 5. The extreme bull case could be Wave III of 3 of [3] of (5). The extended 5 could be there if we are in III of 5 before termination till 2021 we are atleast in strong bull market before a two or three years years consolidation may coming for the bull market which started from 2008 lows.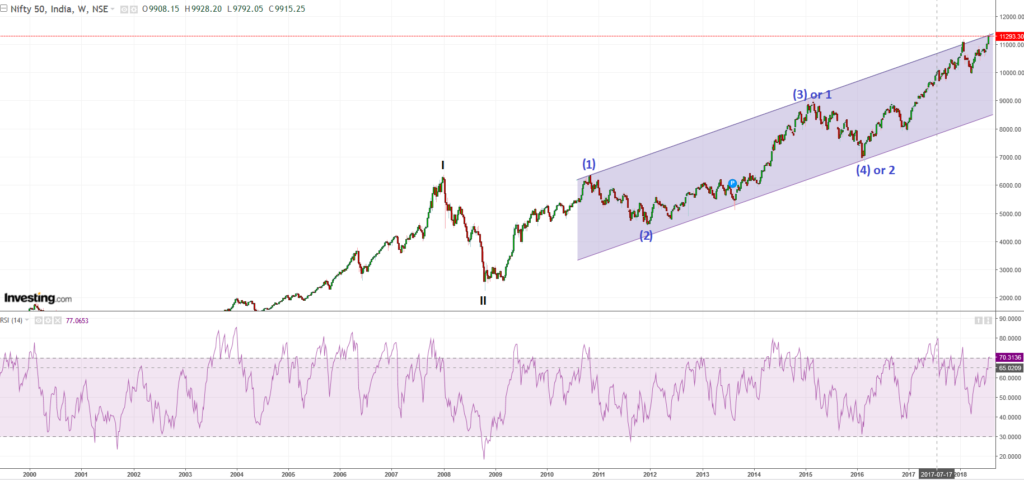 NIFTY is probably in the middle of multi year bull market in long term. But in short term NIFTY is trading near resistance zone. Only if taken out the, party could continue else there could be range trade consolidation for Indian Equities. The internal counts in shorter time frame is not shown on charts intentionally with precise trade setup.
What to expect from the NIFTY in short term ?
Does the trade war noise and global markets spook south or will trend on north persist?
Therefore, to know the stock for forthcoming invest & trading opportunity in Equities, Commodities and Currencies feel free to consult us.
As investing and trading is a game of chess not a random gamble. The quote the legendary investor & trader as stated that, "Discount the obvious and be the unexpected" – Gorge Soros. Thus, it all depends on your think + ability. Its always wise to have Plan A and Plan B in place.
The short and medium term Elliot Wave counts are intentionally not shown here. As insider community is having detailed access to research report on our member area.
Thus, to Learn  STAR trading opportunities in Indian Equities, Commodities and Currencies – NIFTY, BANK NIFTY, NIFTY IT & STOCKS join our Traderz Hut Community.
Learn basic to advanced [P] Square Elliot Wave Strategies Stock market training from an expert Trader & Mentor Raju Angadi Vishwanath, MS, CFTe & become your own money & risk manger by learning successful psychological traits in trading.
Therefore, for more details on forthcoming workshops & Day Trading Workshops, Pro Trader Workshops, and live trading workshops an exclusive stock market trading training course visit us.
Join our exclusive Live online Trading Room – LEAP contact us on traderzhut@gmail.com or call us on +91 78291 55900