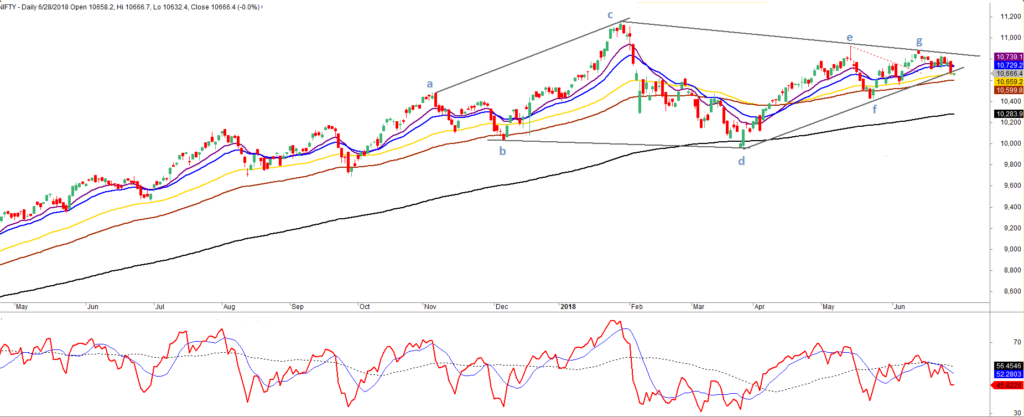 NIFTY has been in range from 10700 – 10850 last two weeks. Although broader markets under performed from last couple of months but MIDCAPs have been punished badly last couple of months. . The markets seems to be in Heidelberg Omen theory structure. Thus, Index management is happening from couple of months with large cap stocks. Though declines favored advances selectively. As large cap stocks buying is witnessed very selectively. With hardly 8-10 top NIFTY stocks near 52-week highs outperforming.
Technical Analysis View:
The hint of distribution is seen in the Markets. The key index NIFTY has formed a Diamond Top on charts. One of the rarest pattern seen but either side breakout would see spontaneous moves usually. The Index is lingering near 50 DMA – 10655 and has formed a belt hold candle yesterday on daily charts, A decisive breakout below next support in medium term is around 10_ _ _ .
Where is NIFTY headed in near to medium term and long term ???
Thus, is it the right time to Sell NIFTY ???
Is there still an opportunity to make money by short selling ???
Yes. There is still a shorting opportunity in the NIFTY. The charts hint there can be drift in NIFTY southwards. But managing risk & money with timing is important in trading success.
The key Confluence Zone for the NIFTY:
R – 10701 / 10743/ 10770/ 10820
S – 10560 / 10425 / 10300 / 10193
The Elliot wave counts for short and medium term with other objective trading strategies are not shown on the charts above ….
Join our Traderz Hut community to learn such STAR trading opportunities.
Therefore, to learn basic to advanced [P] Square Elliot Wave Strategies from an expert Trader & Mentor Raju Angadi Vishwanath, MS, CFTe