The Indian Equities
NIFTY ahead of election results next week all of a sudden surprised most of the traders from all time highs down 10 straight trading sessions.
With most anticipated world's largest democracy's election results would be announced next week. We are in for volatile and exiting times as volatility is traders friend. Let's have check on what charts are hinting.
Technical View:
Even though with full of noise NIFTY has been falling in the impulse Elliot wave structure after making a top of all time high at 11856.15 in a clear pattern. With India VIX – volatility index at 29 odd levels volatility is expected to stay here until the dust settles of election results next week.
NIFTY formed a bearish Head and Shoulders pattern & broke below 11550 now still in correction mode on hourly charts.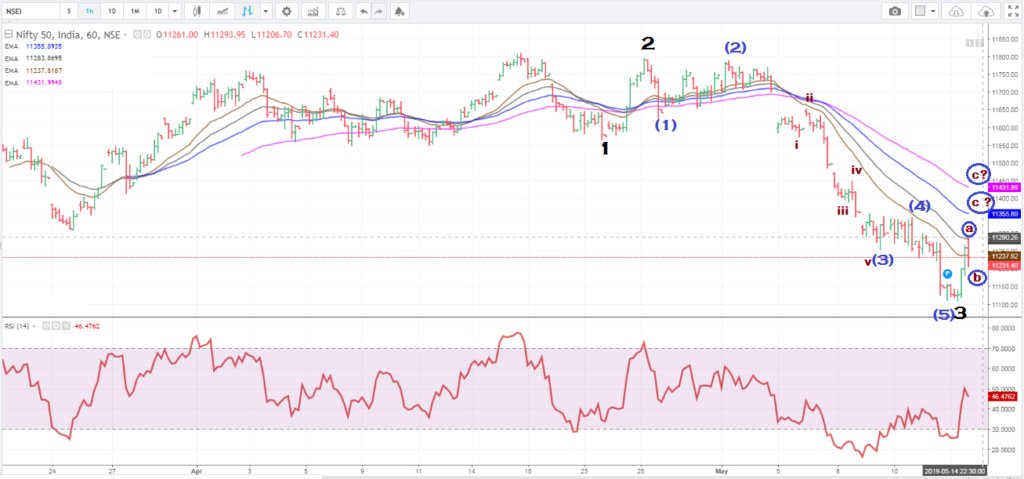 The Indian Index NIFTY at 11108 seems to have completed Wave 3 decline as per probable counts. Now currently we could be in a wave 4 of corrective advance. Thus, the key cluster zones on upside are 11280/11369/11440 where NIFTY can inch towards.
Further once corrective advance completes wave 5 on downside should unfold towards 10892. Also which is the minimum price objective as per the Elliot wave counts projected targets.
Many traders argue Elliot waves are subjective and complex. But with the combination of basic and advanced technical analysis techniques Elliot waves can be objective. Traders can identify STAR low risk high reward trade as well as investment setups.
Objectivity – Subjectivity = Reality
Therefore trading is a game of chess and one needs to trade the setups with high probable scenarios to win more and lose less to become a successful trader.
Join our community of Traderz Hut – Learn, Earn and Prosper.
For more updates on forthcoming workshops and educational series videos check our Youtube channel Traderz Hut or mail us on traderzhut@gmail.com