The NIFTY short term Elliot wave counts hint trend is poised interestingly ahead of election results. Hence, the stellar rally on exit polls predicting majority of NDA led government coming into power again markets seems to have headed on a consolidation.
Always in high volatile market environments traders be objective. Thus, the application of Elliot waves along with combination of basic technical analysis techniques would help us gain an edge over the crowd.
In a nutshell, still in this volatile markets NIFTY perfectly following Elliot Wave structure. Thus, in the below chart let's try to unlock high probable Elliot wave counts before the event unfolds.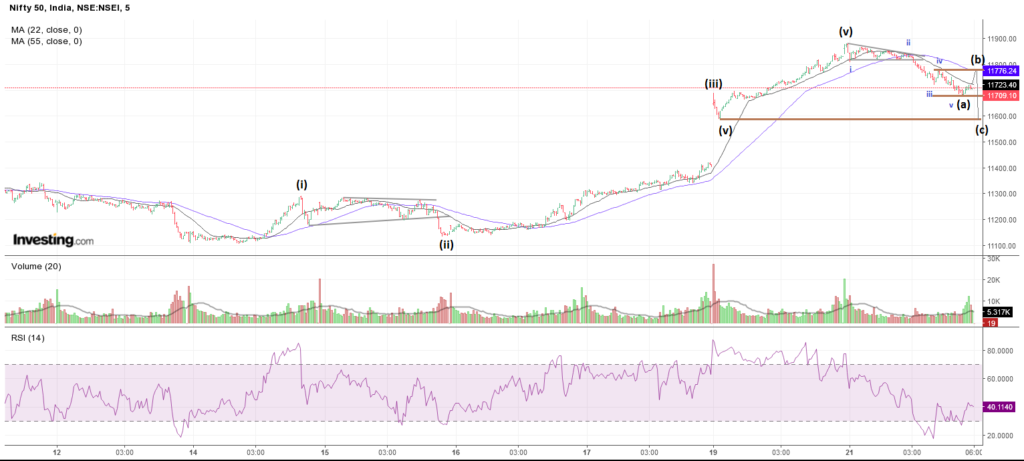 Technical View:
The Indian Equity index NIFTY touched all time highs of 11883 from lows of 11108. This rise in NIFTY has been in a 5-wave impulsive structure as shown in charts above. Now the correction of the impulse is happening in the form of a probable zigzag pattern.
The descending triangle breakdown in NIFTY from top of 11883 triggered sell off as shown in the charts above. The corrective wave (a) is completed now charts hint we could probably in wave (b) of an advance.
The completion of corrective advance could start Wave (c) down in the form of zigzag. This correction in NIFTY could probably end near 11590-600 or even extended could maximum stretch towards 11535-50. Thus, the probability of NIFTY heading towards fresh all time highs once bottoming out is high.
In a nutshell, the key cluster zones for NIFTY to watch out for would be around 11480 – 11530. Therefore for NIFTY 11480 will act as a key trend defining point.
Options Data:
The weekly option chain data for NIFTY hinting that the highest open interest is built at 12000CE and 11500PE. Therefore, this defines a broader range of 11500 – 12000 for this week 23rd May expiry broadly.
On the eve of weekly options expiry and event traders are advised to be objective and maintain strict stops losses due to volatile markets.
Thus traders can wait for corrective wave structure to unfold and act accordingly once completed.
To unlock STAR trading opportunities join our Traderz Hut community. Learn, Earn & Prosper advanced [P] Square Elliot Wave Strategies, Multi-bagger Option Strategies and Day & Swing Trading Strategies with Raju Angadi Vishwanath, MS, CFTe.
Join our exclusive Trading Room – ACT now. For more details, contact us on traderzhut@gmail.com or call us on +91 78291 55900