Technical Analysis View : Short Term
The Indian equity index NIFTY witnessed a 5-wave impulse decline as shown in the chart above in Chart 1 as per short term Elliot Wave counts.

The key Moving Averages for NIFTY are at 10806 – 10750. Thus once broken NIFTY in short term expected to heading lower.
The Elliott Wave counts are valid until 10880 – 10920 holds on upside.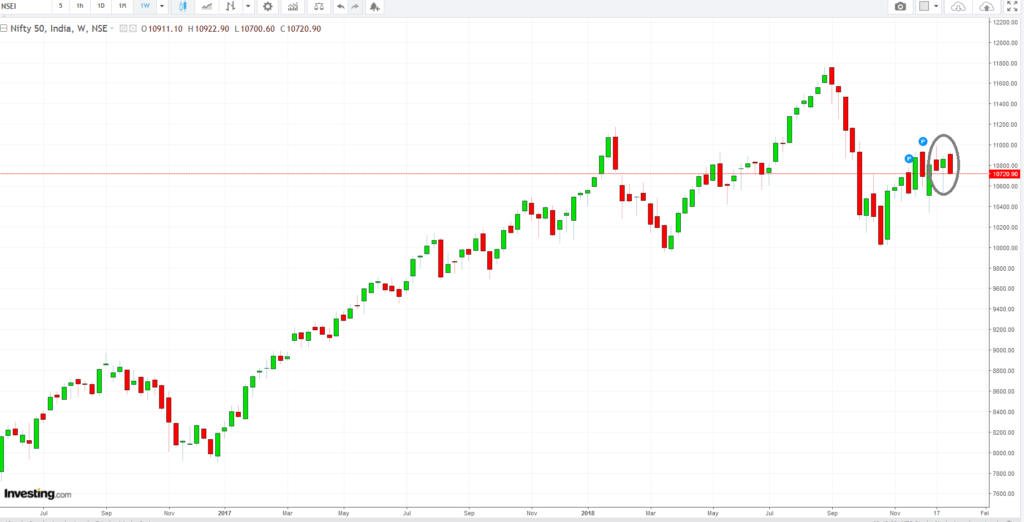 Technical View : Medium Term
NIFTY after making a move from 10333 tested 10985.
In last month NIFTY formed an hanging man candlestick pattern on weekly charts after making a shooting star candlestick pattern prior month as shown in chart 2 above.
Thus traders are advised to be cautious on long side until 11000 is crossed on upside and short traders could sell on rises in NIFTY.
Therefore in larger degree NIFTY seems to be making and H & S pattern which could trigger more pain and volatility.
Thus markets are expected to be more volatile in the coming months due to central elections in May 2019.
Options Data :
The smart money is indicating sideways movement for the index until 1st half of January 2019.
Put & Call open interest (OI) for NIFTY:
The highest put OI is built on NIFTY 10500 followed by 10000 and 10700 levels.
The highest ca;; OI for NIFTY on upside is built on 11000 followed by 11200 and 10900 levels.
What is in store for the NIFTY in coming months?
Is Bank NIFTY crash coming?
To know the best Bank stock to short & forthcoming trading opportunity in Equities, trade setup Commodities and Currencies feel free to consult us.
Join our Day Trader Workshop on 19th & 20th January 2019 in Bangalore
An exclusive stock market trading course learn and earn.
Hence, to learn and earn STAR trading opportunities in Indian Equities, Commodities and Currencies – NIFTY, BANK NIFTY, NIFTY IT & STOCKS join our Traderz Hut Community.
Learn basic to advanced Strategies from an industry expert. A trader, coach & mentor Raju Angadi Vishwanath, MS, CFTe.
For more details on forthcoming workshops & Day Trading Workshops, Pro Trader Workshops, and live trading workshops – LEAP Learn Earn and Prosper contact us on traderzhut@gmail.com or call us on +91 78291 55900.