NIFTY
Technical View:
NIFTY trading at a crucial juncture started correcting last week. The formation of bearish engulfing pattern on weekly charts after hitting all-time highs hints at least halt of uptrend as of now. The larger super cycle degree wave counts suggest we are in Wave III of (III) of (4) or could have completed Wave (III)of (3) of (5).
The probable Elliot wave structure hints still we could be in corrective advance formed (X) or (E). The entire upside move could be in the form of A-B-C advance and NIFTY can retrace back the whole move from 10670 – 12160 as the (x) or (E) could be completed as shown in the chart below.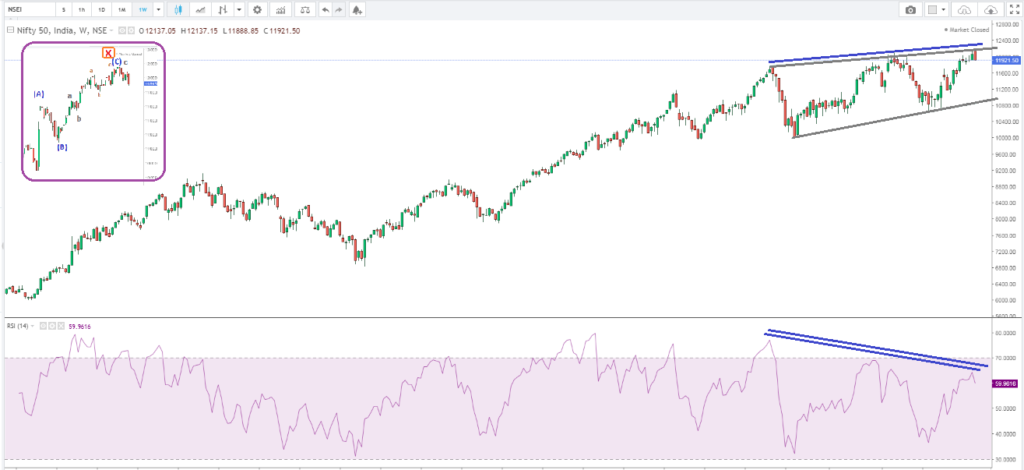 The weekly charts shown above hints formation of ending diagonal. The clear negative divergence is seen in momentum indicator RSI and price. Also bearish engulfing candlestick pattern is formed on weekly charts shows weakness.
Therefore, the range of 11800-12100 either side breakout can trigger move of 400 points on either side. The best probable trade setup for NIFTY trader can conclude is to sell on rises. In the current scenario until 12100 – 200 is decisively broken.
The break below 11800 and 11711 can trigger sell off towards 11430-11480 levels. The fresh buying can only be seen above 12100 on closing basis. The Elliot Wave alternate counts come in picture and NIFTY can head towards 12400/12500 zones.
Trading Clusters:
The key trend deciding clusters for NIFTY to watch out are 11890 / 11822 / 11711 and on the upside 11993 / 12053 / 12120.
Do you like to become a Master Day Trader?
Join our Master Day Trader – Workshop and start your journey towards financial freedom.
ACT now!!! Anybody Can Trade
Join our exclusive Trading Room – ACT now Slack Community. Learn , Earn and Prosper from TRADERZ HUT with Raju Angadi Vishwanath, MS, CFTe and become a Master Trader.
For more details, contact us on traderzhut@gmail.com or call us on +91 78291 55900