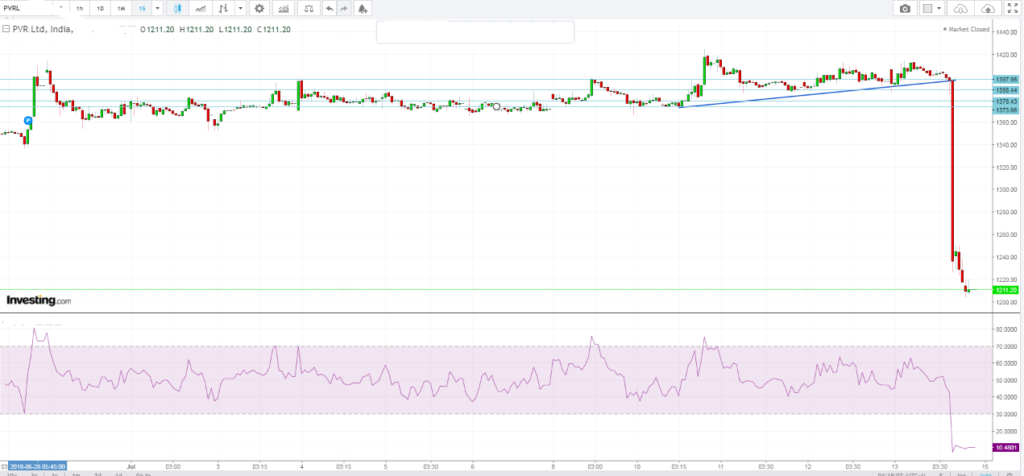 PVR Ltd crashed 13.24% on the news that multiplexes need to allow outside food for customers from Maharastra state government. This could impact the margins by 25-30% or more and also on the rumors on controlling the price of tickets. Even the Inox Leisure crashed 5.7% on the negative sentiment on the sector.
The million dollar is, while doing the post market research on rationale to identify trade setup:
Could the trade setup be identified before the news ?
Yes.
Was the news triggered the fall or charts hinted ?
Yes Charts hinted.
I was wondering after taking up the trade to find the reason on charts behind it. I found 3 of my price and price based indicators gave a signal before the crash on various time frames applied.
But, it was the combination of both art and science which gave a signal of short sell:
Science:
Applying simple technical analysis of price action, trendlines and supply & demand zones with a sentimental indicator gave a sell signal around 1390-1375 zones then rest is history as stock crashed to 1211 down 13% and closed.
Art :
The art is the skill one develops to identify a trade setup over a period by identification of the trend which is like how an experienced doctor by touching the nerves of a patient senses the pulse of something wrong in patient's health. But here the question is art inbuilt or can be developed over a period or can be learned?
The combination of both science and art is important to be a trader along with equal weight on risk and money management skills to be successful and consistently make money in stock market over long run.
The good news is art can be learned, if u choose a right mentor, last few weeks have been tough environment for traders lective in setting up trade. Some times traders needs tofor traders it is better to sit and do nothing as markets don't trend most of the times. But as most of the traders do common mistakes even I do is well. I did some mistakes by trading unnecessary trades in last one month which led to over trading during futile markets. As there were very few STAR swing trading opportunities either on long or short side.
Therefore, this leads to some losses and frustrated trading. But on my part good thing is, I keep my stops in check almost always. There is no exception in markets the professional traders, novoice traders, and everyone makes mistakes. Though how much is the cost and how much you profit from your winners matters like '80-20 rule'. Last 30-40 indecisive errant trades small profits and losses were almost compensated by a single trade in PVR Ltd. The investment of Rs. 4,200 turned into Rs. 32,000.
Here is a snap shot of PVR trade on Friday: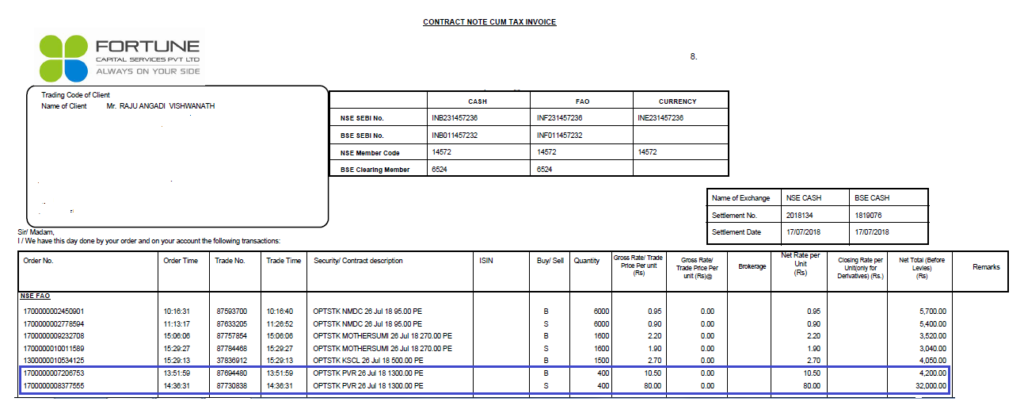 The understanding of Alligator principle works wonders. A trader needs to be a successful and also trader needs to understand that all trades would never be profitable. Thus, the depth of understanding on a built-in strategy with a belief of a successful trade setup can be done and by getting trained with a experienced coach and mentor.
Thus, the quote reveals, "Trading is a combination of both art and science". There is requirement of science – an identification of trend by applying technical analysis. Also most important is art – an human financial personality, This manages money and risk during the trade life cycle. Thus, traders to be successful trader and / or an investor needs both art and science. Therefore, Traderz Hut will hone you with skill sets of science and help you in building your mindset an art on how to manage your money in a right way.
The internal counts and precise targets are not shown on the charts above. There are few ore stocks which are exhibiting similar larger degree Elliot wave pattern. Thus to know more such kind of patterns to manage your trades and investments. Join our Live Trading Room – Online Trading Workshop to interact with elite traders and mentor.
Therefore to Learn such STAR trading opportunities in Indian Equities, Commodities and Currencies – NIFTY, BANK NIFTY, IFTY IT & STOCKS. Jjoin Traderz Hut Community master day trader club.
Learn basic to advanced [P] Square Elliot Wave Strategies Stock market training from an expert Trader & Mentor Raju Angadi Vishwanath, MS, CMT
Therefore, for more details on forthcoming workshops & live trading workshops. Join an exclusive stock market trading course practical Join our exclusive Trading Room – LEAP.
For more details contact us on traderzhut@gmail.com or call us on +91 78291 55900