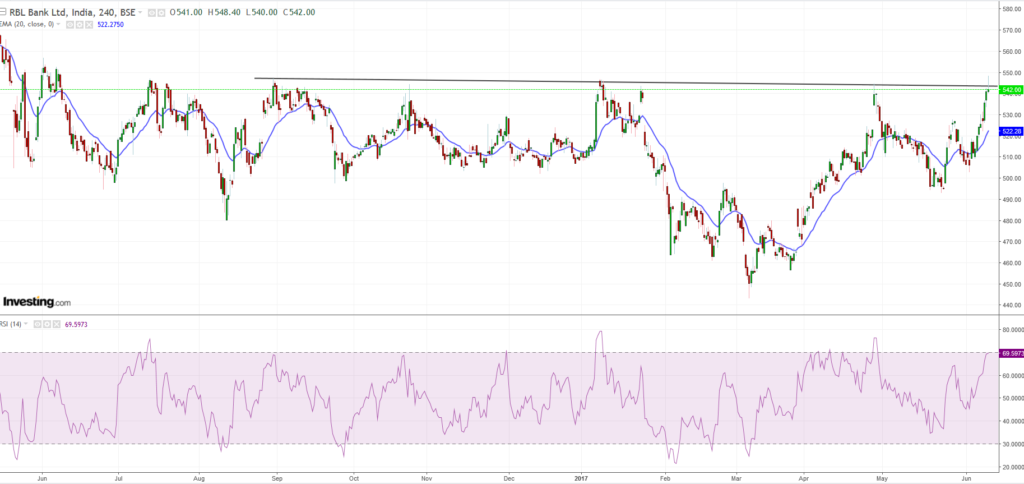 RBL Bank trading above key short term Moving Average and has been in positive momentum from last week gaining more than 8%
The stock is now on the verge of a breakout above Bullish H & S pattern
But it is always said that early bird gets the majority of meat.
Thus, it is important to time the entry, exit and stop loss by the application of basic and advanced technical analysis tools
Is there still more upside for the stock ?
Has the stock has made a medium term bottom ?
Is this the right time to invest in the stock ?
The Elliot Wave counts suggest a medium term bottom for the stock and it could head towards north. A bullish pattern witnessed in short term charts coinciding with the fractal nature of charts confirming the north direction.
Till which levels the stock could rise _ _ _. We are long in the stock from _ _ _ levels.
There is a big STAR trading opportunity in short , medium and long term coming up for the stock
To Learn and earn with such STAR trading opportunities NIFTY, BANK NIFTY, CNX IT and join our Traderz Hut Community
Learn basic to advanced [P] Square Elliot Wave Strategies from a Trader & Mentor Raju Angadi Vishwanath, MS, CMT
For more details on forthcoming workshops & live trading workshops to Join our exclusive Trading Room – Traderz Hut contact us on traderzhut@gmail.com or call us on +91 78291 55900