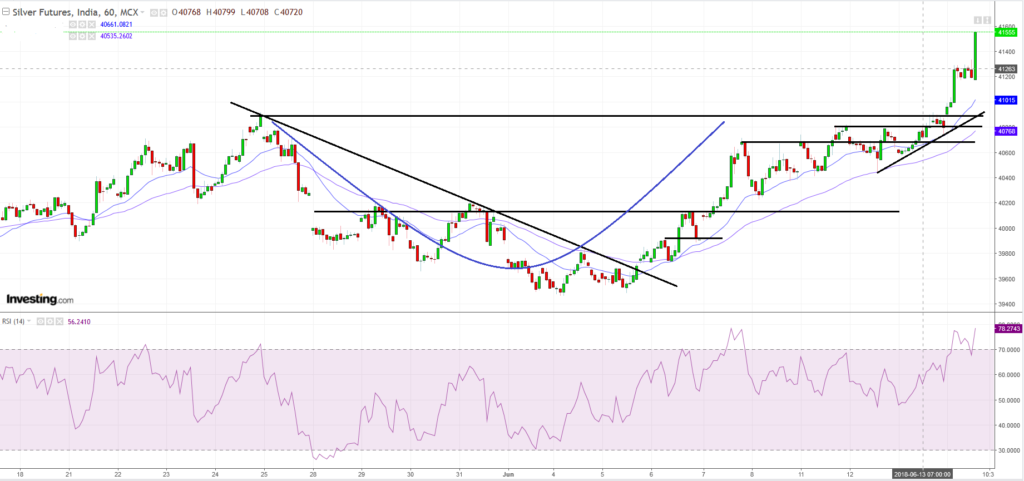 Silver has moved more than 1500 points upwards in last one week after breaking above 40100.
But, It is always necessary to have a trading plan and feasible trade setup to manage risk & trade successfully.
The precious metal is heading northwards direction after long. One could have captured the momentum upwards.
With the use of basic technical indicators such as higher tops and bottoms, trendlines and other classical patterns one could have traded the commodity on Bullish direction.
But still application of advanced techniques [P] Square Elliot waves would give conviction along with the combined application of basic prudent technicals would always give an edge in trade setup
The Elliot Wave counts suggest a medium term bottom for the precious metal and it could head towards north. A bullish pattern witnessed in short term charts coinciding with the fractal nature of charts confirming the north direction.
Till which levels the Silver could rise _ _ _. We are long in the commodity from _ _ _ levels.
There is a big STAR trading opportunity in short , medium and long term coming up for the commodity
To Learn and earn with such STAR trading opportunities NIFTY, BANK NIFTY, CNX IT, Precious Metals, Base Metals, Crude Oil, Gold, Silver and stocks join our Traderz Hut Community
Learn basic to advanced [P] Square Elliot Wave Strategies from a Trader & Mentor Raju Angadi Vishwanath, MS, CMT
For more details on forthcoming workshops & live trading workshops to Join our exclusive Trading Room – Traderz Hut contact us on traderzhut@gmail.com or call us on +91 78291 55900