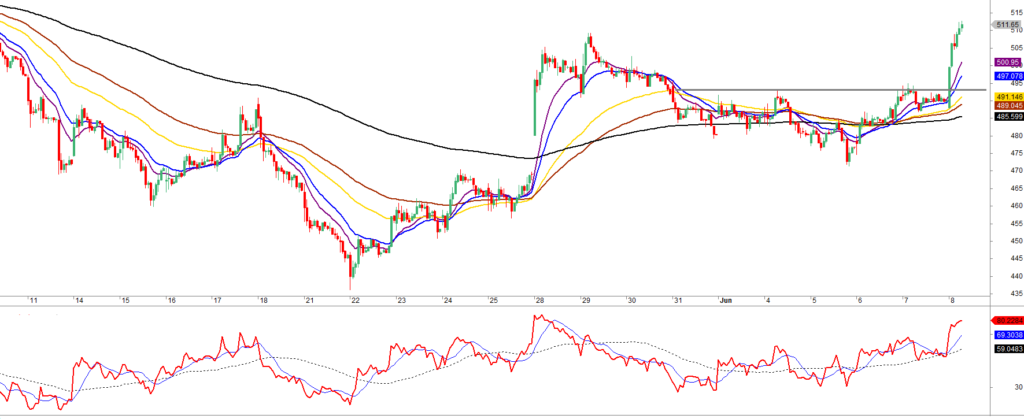 Sun Pharma breaks out of a Inverse H & S Pattern.
The shift rally and the bottom up buying interest is witnessed in Pharma stocks, which is hinting a start of new trend after a 3.5 years long correction.
The trading patterns with the combination of advanced [P] Square Elliot Waves one could have bought the stock around 470-480 zone.
It is up 4.5% for the day.
Is it still a good buying opportunity? Yes.
Is there still more upside for the stock ?
Has the stock has made a medium term bottom ?
Is this the right time to invest in the stock ?
The Elliot Wave counts suggest a medium term bottom for the stock and it could head towards north. A bullish pattern witnessed in short term charts coinciding with the fractal nature of charts confirming the north direction.
Till which levels the stock could rise _ _ _. We are long in the stock from 472 levels ….
There is a big STAR trading opportunity in short , medium and long term coming up for the stock
To Learn and earn with such STAR trading opportunities join our Traderz Hut Community
Learn basic to advanced P Square Elliot Wave Strategies from a Trader & Mentor Raju Angadi Vishwanath, MS, CMT
For more details on forthcoming workshops & live trading workshops to Join our exclusive Trading Room – Traderz Hut contact us on traderzhut@gmail.com or call us on +91 78291 55900