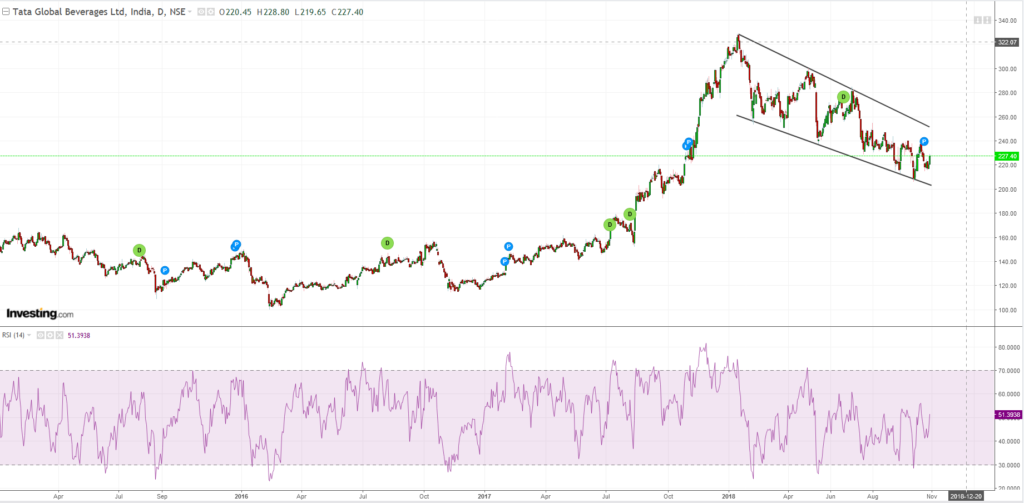 Can Q2 results bring cheer for Tata global                                                                                    

Tata Global Beverages going to announce Q2 results today.
Can the results bring back the cheer on the stock ??
would it be a tragedy for the stock is the question for investors ???
What does charts tell the story ??? Is the consumption story still intact ???
Another question to ask is, Is it the right time to invest in stock ?
Technical Outlook
Tata Global Beverages seems to have completed complex zigzag correction, now in consolidation range of 30 points.
The stock has retraced 50% of the impulse Wave III rally from 120-330, now forming an higher bottom for first time after long period.
Therefore considering the higher bottom formed for the stock after long period now it'spoised for a revival northwards could be possible
Besides the falling wedge price pattern forming as shown in chart above on breakout could be a long term bullish for the stock.
The stock is also hinting the early signs of completion of completion of complex correction as per Elliot wave counts
Could stock turn out to be a multi-bagger in the coming months ahead ???
Rather here one needs to keep your fingers crossed until Q2 results for two stage confirmation. While, a cross above _ _ _ stock could give excellent returns.
The power of simple patterns along with the application of [P] square Elliot Waves will provide the objectivity and power to use. Hence, the combination of multiple tools and appropriate risk and money management strategies is key to successful trading. Some of the Elliot Wave counts and techniques are intentionally excluded in charts.
Thus, there is a big STAR trading opportunity in short, medium and long term coming up for the stock.
To Learn and earn with such STAR trading opportunities & stock selection methods in NIFTY, BANK NIFTY, CNX IT, stocks and Global Markets join our Traderz Hut insider member community.
Join our Telegram Group of Traderz Hut community for such STAR Day/Swing Trading Tips.
Join our weekly Trade Quest Webinar every week to know forthcoming probable trends on Indian & Global Equities and commodities.
Learn & earn revamped and advanced trading strategies from a Trader & Mentor Raju Angadi Vishwanath, MS, CFTe
For any of the services and more details above contact us on traderzhut@gmail.com or call us at +91 78291 55900