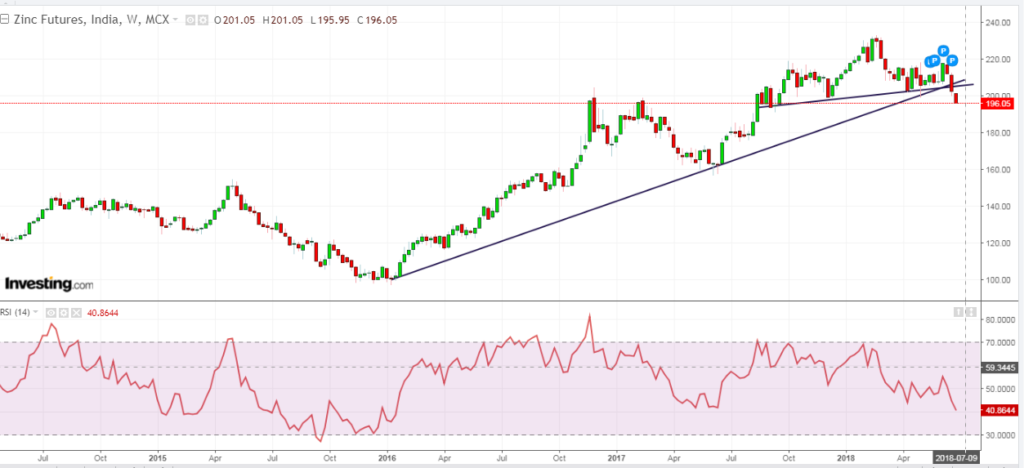 The Base metal zinc has been under performing from last 3 weeks compared to short covering seen in other metals unable to cross 218-220 levels.
Was the fall in last two weeks due to Trade War or Charts hinted a short sell ??? Yes solely based on charts trade setup could have been taken. One could have shorted the base metal based on simple technicals and could have applied '80-20 rule' to execute a STAR trade setup with the application of combined technical, risk & money management strategies.
It broke below a key trendline around 207 levels with the confluence of other techniques. The base metal though triggered much earlier sell below _ _ _ and now trading around 197 broken below 8 month lows with a breakout of bearish pattern southwards.
Has the base metal topped out ???
What is in store for the Zinc ????
Is this the right time to enter short trade in Zinc ???
The Elliot Wave counts and advanced technicals comes into play here to enter trade and manage risk in appropriate way.
Today Intraday there was a great trade setup around 199.8 with stop of 201.80 and it made a low of 196.65 as we believe trading objectivity is important even on ongoing trend as per individual time horizon.
Till which levels this Base Metal could fall _ _ _. The key confluence zones are _ _ _ and _ _ _.
There is a big STAR trading opportunity in short, medium and long term coming up for the Metal
Thus, join Traderz Hut community to learn such STAR trading opportunities in Equites & Commodities.
But, some of the counts and techniques are intentionally excluded in charts.
Therefore, learn revamped and advanced [P] Square Elliot Wave Strategies to identify such Microsoft kind of opportunities yourself from a Trader & Mentor Raju Angadi Vishwanath, MS, CFTe.
Thus, for more details on forthcoming workshops & live trading room get in touch with us.
Join our exclusive Trading Room – LEAP contact us on traderzhut@gmail.com or call us on +91 78291 55900